Faculty Profiles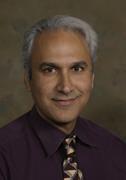 Neil Pravin Shah, MD
M_MED-CORE-HMON-ONCO-GEN
Professor
513 Parnassus Ave, Med Sci
San Francisco, CA 94122
415-476-3303


Education and Training

| Location | Degree or Training | Specialty | Date |
| --- | --- | --- | --- |
| University of California Los Angeles | M.D. | School of Medicine | 1996 |
Related Web Sites
In the News
Awarded Grants
| Project Title | Project Number | Fiscal Year |
| --- | --- | --- |
| Discovery and Development of a Selective pan-FLT3-ITD Kinase Inhibitor Clinical Candidate for the Treatment of FLT3-ITD-Driven AML | R01CA194094 | 2019 |
| Crenolanib and ponatinib for the treatment of FLT3 mutant AML | R01CA176091 | 2018 |
| Mechanisms of resistance to clinically-effective FLT3 kinase inhibitors in AML | R01CA166616 | 2017 |
| Pre-IND study of PMT-254, a pan-FLT3 inhibitor for the treatment of FLT3 driven cancers. | R41CA199753 | 2016 |
| Bio-Organic Biomedical Mass Spectrometry Resource | P41RR001614 | 2015 |
Recent Articles (23)
Shouval DS, Konnikova L, Griffith AE, Wall SM, Biswas A, Werner L, Nunberg M, Kammermeier J, Goettel JA, Anand R, Chen H, Weiss B, Li J, Loizides A, Yerushalmi B, Yanagi T, Beier R, Conklin LS, Ebens CL, Santos FGMS, Sherlock M, Goldsmith JD, Kotlarz D, Glover SC, Shah N, Bousvaros A, Uhlig HH, Muise AM, Klein C, Snapper SB. Enhanced TH17 Responses in Patients with IL10 Receptor Deficiency and Infantile-onset IBD. Inflamm Bowel Dis. 2017 Nov; 23(11):1950-1961.
Stein BL, Gotlib J, Arcasoy M, Nguyen MH, Shah N, Moliterno A, Jamieson C, Pollyea DA, Scott B, Wadleigh M, Levine R, Komrokji R, Klisovic R, Gundabolu K, Kropf P, Wetzler M, Oh ST, Ribeiro R, Paschal R, Mohan S, Podoltsev N, Prchal J, Talpaz M, Snyder D, Verstovsek S, Mesa RA. Historical views, conventional approaches, and evolving management strategies for myeloproliferative neoplasms. J Natl Compr Canc Netw. 2015 Apr; 13(4):424-34.
Tajon CA, Seo D, Asmussen J, Shah N, Jun YW, Craik CS. Sensitive and selective plasmon ruler nanosensors for monitoring the apoptotic drug response in leukemia. ACS Nano. 2014 Sep 23; 8(9):9199-208.
Lilly MB, Ottmann OG, Shah NP, Larson RA, Reiffers JJ, Ehninger G, Müller MC, Charbonnier A, Bullorsky E, Dombret H, Brigid Bradley-Garelik M, Zhu C, Martinelli G. Dasatinib 140 mg once daily versus 70 mg twice daily in patients with Ph-positive acute lymphoblastic leukemia who failed imatinib: Results from a phase 3 study. Am J Hematol. 2010 Mar; 85(3):164-70.
Paquette RL, Nicoll J, Chalukya M, Gondek L, Jasek M, Sawyers CL, Shah NP, Maciejewski J. Clonal hematopoiesis in Philadelphia chromosome-negative bone marrow cells of chronic myeloid leukemia patients receiving dasatinib. Leuk Res. 2010 Jun; 34(6):708-13.
Kantarjian H, Pasquini R, Lévy V, Jootar S, Holowiecki J, Hamerschlak N, Hughes T, Bleickardt E, Dejardin D, Cortes J, Shah NP. Dasatinib or high-dose imatinib for chronic-phase chronic myeloid leukemia resistant to imatinib at a dose of 400 to 600 milligrams daily: two-year follow-up of a randomized phase 2 study (START-R). Cancer. 2009 Sep 15; 115(18):4136-47.
Seeliger MA, Ranjitkar P, Kasap C, Shan Y, Shaw DE, Shah NP, Kuriyan J, Maly DJ. Equally potent inhibition of c-Src and Abl by compounds that recognize inactive kinase conformations. Cancer Res. 2009 Mar 15; 69(6):2384-92.
Hochhaus A, Baccarani M, Deininger M, Apperley JF, Lipton JH, Goldberg SL, Corm S, Shah NP, Cervantes F, Silver RT, Niederwieser D, Stone RM, Dombret H, Larson RA, Roy L, Hughes T, Müller MC, Ezzeddine R, Countouriotis AM, Kantarjian HM. Dasatinib induces durable cytogenetic responses in patients with chronic myelogenous leukemia in chronic phase with resistance or intolerance to imatinib. Leukemia. 2008 Jun; 22(6):1200-6.
Kantarjian H, Pasquini R, Hamerschlak N, Rousselot P, Holowiecki J, Jootar S, Robak T, Khoroshko N, Masszi T, Skotnicki A, Hellmann A, Zaritsky A, Golenkov A, Radich J, Hughes T, Countouriotis A, Shah N. Dasatinib or high-dose imatinib for chronic-phase chronic myeloid leukemia after failure of first-line imatinib: a randomized phase 2 trial. Blood. 2007 Jun 15; 109(12):5143-50.
Shankar DB, Li J, Tapang P, Owen McCall J, Pease LJ, Dai Y, Wei RQ, Albert DH, Bouska JJ, Osterling DJ, Guo J, Marcotte PA, Johnson EF, Soni N, Hartandi K, Michaelides MR, Davidsen SK, Priceman SJ, Chang JC, Rhodes K, Shah N, Moore TB, Sakamoto KM, Glaser KB. ABT-869, a multitargeted receptor tyrosine kinase inhibitor: inhibition of FLT3 phosphorylation and signaling in acute myeloid leukemia. Blood. 2007 Apr 15; 109(8):3400-8.
Cortes J, Rousselot P, Kim DW, Ritchie E, Hamerschlak N, Coutre S, Hochhaus A, Guilhot F, Saglio G, Apperley J, Ottmann O, Shah N, Erben P, Branford S, Agarwal P, Gollerkeri A, Baccarani M. Dasatinib induces complete hematologic and cytogenetic responses in patients with imatinib-resistant or -intolerant chronic myeloid leukemia in blast crisis. Blood. 2007 Apr 15; 109(8):3207-13.
Hochhaus A, Kantarjian HM, Baccarani M, Lipton JH, Apperley JF, Druker BJ, Facon T, Goldberg SL, Cervantes F, Niederwieser D, Silver RT, Stone RM, Hughes TP, Muller MC, Ezzeddine R, Countouriotis AM, Shah NP. Dasatinib induces notable hematologic and cytogenetic responses in chronic-phase chronic myeloid leukemia after failure of imatinib therapy. Blood. 2007 Mar 15; 109(6):2303-9.
Radich JP, Dai H, Mao M, Oehler V, Schelter J, Druker B, Sawyers C, Shah N, Stock W, Willman CL, Friend S, Linsley PS. Gene expression changes associated with progression and response in chronic myeloid leukemia. Proc Natl Acad Sci U S A. 2006 Feb 21; 103(8):2794-9.
Young MA, Shah NP, Chao LH, Seeliger M, Milanov ZV, Biggs WH, Treiber DK, Patel HK, Zarrinkar PP, Lockhart DJ, Sawyers CL, Kuriyan J. Structure of the kinase domain of an imatinib-resistant Abl mutant in complex with the Aurora kinase inhibitor VX-680. Cancer Res. 2006 Jan 15; 66(2):1007-14.
Michor F, Hughes TP, Iwasa Y, Branford S, Shah NP, Sawyers CL, Nowak MA. Dynamics of chronic myeloid leukaemia. Nature. 2005 Jun 30; 435(7046):1267-70.
Shah NP. Loss of response to imatinib: mechanisms and management. Hematology Am Soc Hematol Educ Program. 2005; 183-7.
Chu S, Xu H, Shah NP, Snyder DS, Forman SJ, Sawyers CL, Bhatia R. Detection of BCR-ABL kinase mutations in CD34+ cells from chronic myelogenous leukemia patients in complete cytogenetic remission on imatinib mesylate treatment. Blood. 2005 Mar 01; 105(5):2093-8.
Shah NP, Tran C, Lee FY, Chen P, Norris D, Sawyers CL. Overriding imatinib resistance with a novel ABL kinase inhibitor. Science. 2004 Jul 16; 305(5682):399-401.
Shah NP, Sawyers CL. Mechanisms of resistance to STI571 in Philadelphia chromosome-associated leukemias. Oncogene. 2003 Oct 20; 22(47):7389-95.
Shah NP, Nicoll JM, Nagar B, Gorre ME, Paquette RL, Kuriyan J, Sawyers CL. Multiple BCR-ABL kinase domain mutations confer polyclonal resistance to the tyrosine kinase inhibitor imatinib (STI571) in chronic phase and blast crisis chronic myeloid leukemia. Cancer Cell. 2002 Aug; 2(2):117-25.
Roumiantsev S, Shah NP, Gorre ME, Nicoll J, Brasher BB, Sawyers CL, Van Etten RA. Clinical resistance to the kinase inhibitor STI-571 in chronic myeloid leukemia by mutation of Tyr-253 in the Abl kinase domain P-loop. Proc Natl Acad Sci U S A. 2002 Aug 06; 99(16):10700-5.
Lee VW, Shah NP. In search of the ideal radiotracer for soft-tissue amyloid scanning. Amyloid. 2001 Sep; 8(3):220-1.
Select data provided by UCSF Profiles, powered by CTSI at UCSF. Learn more about the data source.