Faculty Profiles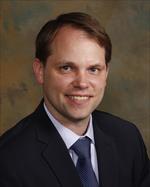 Collin Blakely, MD, PhD
M_MED-CORE-HMON-ONCO-GEN
Assistant Professor
Dr. Blakely is a medical oncologist specializing in the treatment of lung cancer. He received his Bachelor of Science degree in Molecular and Cellular Biology from the University of Washington and attended the Perelman School of Medicine at the University of Pennsylvania in the Medical Scientist Training Program. He completed his Internal Medicine residency at the Hospital of the University of Pennsylvania and trained as a clinical fellow in Medical Oncology at UCSF. His research focuses on understanding the cellular and molecular mechanisms underlying lung cancer resistance to EGFR-, and ALK-targeted therapies, and identifying new targets for molecular-directed therapies. His goal is to translate laboratory-based findings into new treatments for lung cancer patients.
Education and Training

| Location | Degree or Training | Specialty | Date |
| --- | --- | --- | --- |
| UCSF | Fellowship | Medical Oncology | 2011 |
| University of Pennsylvania Health System | Residency | Internal Medicine | 2009 |
| University of Pennsylvania | M.D. | Medicine | 2007 |
| University of Pennsylvania | Ph.D. | Cell and Molecular Biology | 2006 |
| University of Washington | B.S. | Molecular and Cellular Biology | 1997 |
Interests
ALK, Cancer Genomics, EGFR, Non-small cell lung cancer, ROS-1, Targeted Therapies
Awards and Honors
| | |
| --- | --- |
| 2018 | Damon Runyon Clinical Investigator Award, Damon Runyon Cancer Research Foundation, 2018-2021 |
| 2014 | AACR BioOncology Fellowship, AACR, 2014-2016 |
| 2014 | Legacy Award, Uniting Against Lung Cancer, 2014-2016 |
| 2013 | Research Grant, Bonnie J. Addario Lung Cancer Foundation, 2013 |
Related Web Sites
In the News
Recent Articles (16)
McCoach CE, Blakely CM, Banks KC, Levy B, Chue BM, Raymond VM, Le A, Lee CE, Diaz J, Waqar SN, Purcell WT, Aisner DL, Davies KD, Lanman RB, Shaw AT, Doebele RC. Clinical utility of cell-free DNA for the detection of ALK fusions and genomic mechanisms of ALK inhibitor resistance in non-small cell lung cancer. Clin Cancer Res. 2018 Mar 29.
Truillet C, Oh HLJ, Yeo SP, Lee CY, Huynh LT, Wei J, Parker MFL, Blakely C, Sevillano N, Wang YH, Shen YS, Olivas V, Jami KM, Moroz A, Jego B, Jaumain E, Fong L, Craik CS, Chang AJ, Bivona TG, Wang CI, Evans MJ. Imaging PD-L1 Expression with ImmunoPET. Bioconjug Chem. 2018 Jan 17; 29(1):96-103.
Blakely CM, Watkins TBK, Wu W, Gini B, Chabon JJ, McCoach CE, McGranahan N, Wilson GA, Birkbak NJ, Olivas VR, Rotow J, Maynard A, Wang V, Gubens MA, Banks KC, Lanman RB, Caulin AF, St John J, Cordero AR, Giannikopoulos P, Simmons AD, Mack PC, Gandara DR, Husain H, Doebele RC, Riess JW, Diehn M, Swanton C, Bivona TG. Evolution and clinical impact of co-occurring genetic alterations in advanced-stage EGFR-mutant lung cancers. Nat Genet. 2017 Dec; 49(12):1693-1704.
Woodard GA, Wang SX, Kratz JR, Zoon-Besselink CT, Chiang CY, Gubens MA, Jahan TM, Blakely CM, Jones KD, Mann MJ, Jablons DM. Adjuvant Chemotherapy Guided by Molecular Profiling and Improved Outcomes in Early Stage, Non-Small-Cell Lung Cancer. Clin Lung Cancer. 2018 Jan; 19(1):58-64.
Jonsson VD, Blakely CM, Lin L, Asthana S, Matni N, Olivas V, Pazarentzos E, Gubens MA, Bastian BC, Taylor BS, Doyle JC, Bivona TG. Novel computational method for predicting polytherapy switching strategies to overcome tumor heterogeneity and evolution. Sci Rep. 2017 Mar 13; 7:44206.
Okimoto RA, Breitenbuecher F, Olivas VR, Wu W, Gini B, Hofree M, Asthana S, Hrustanovic G, Flanagan J, Tulpule A, Blakely CM, Haringsma HJ, Simmons AD, Gowen K, Suh J, Miller VA, Ali S, Schuler M, Bivona TG. Inactivation of Capicua drives cancer metastasis. Nat Genet. 2017 01; 49(1):87-96.
McCoach CE, Bivona TG, Blakely CM, Doebele RC. Neoadjuvant Oncogene-Targeted Therapy in Early Stage Non-Small-Cell Lung Cancer as a Strategy to Improve Clinical Outcome and Identify Early Mechanisms of Resistance. Clin Lung Cancer. 2016 Sep; 17(5):466-469.
Hrustanovic G, Olivas V, Pazarentzos E, Tulpule A, Asthana S, Blakely CM, Okimoto RA, Lin L, Neel DS, Sabnis A, Flanagan J, Chan E, Varella-Garcia M, Aisner DL, Vaishnavi A, Ou SH, Collisson EA, Ichihara E, Mack PC, Lovly CM, Karachaliou N, Rosell R, Riess JW, Doebele RC, Bivona TG. RAS-MAPK dependence underlies a rational polytherapy strategy in EML4-ALK-positive lung cancer. Nat Med. 2015 Sep; 21(9):1038-47.
Blakely CM, Pazarentzos E, Olivas V, Asthana S, Yan JJ, Tan I, Hrustanovic G, Chan E, Lin L, Neel DS, Newton W, Bobb KL, Fouts TR, Meshulam J, Gubens MA, Jablons DM, Johnson JR, Bandyopadhyay S, Krogan NJ, Bivona TG. NF-?B-activating complex engaged in response to EGFR oncogene inhibition drives tumor cell survival and residual disease in lung cancer. Cell Rep. 2015 Apr 07; 11(1):98-110.
Blakely CM, Bivona TG. Resiliency of lung cancers to EGFR inhibitor treatment unveiled, offering opportunities to divide and conquer EGFR inhibitor resistance. Cancer Discov. 2012 Oct; 2(10):872-5.
Blakely C, Jahan T. Emerging antiangiogenic therapies for non-small-cell lung cancer. Expert Rev Anticancer Ther. 2011 Oct; 11(10):1607-18.
Blakely CM, Stoddard AJ, Belka GK, Dugan KD, Notarfrancesco KL, Moody SE, D'Cruz CM, Chodosh LA. Hormone-induced protection against mammary tumorigenesis is conserved in multiple rat strains and identifies a core gene expression signature induced by pregnancy. Cancer Res. 2006 Jun 15; 66(12):6421-31.
Blakely CM, Sintasath L, D'Cruz CM, Hahn KT, Dugan KD, Belka GK, Chodosh LA. Developmental stage determines the effects of MYC in the mammary epithelium. Development. 2005 Mar; 132(5):1147-60.
Gale M, Blakely CM, Darveau A, Romano PR, Korth MJ, Katze MG. P52rIPK regulates the molecular cochaperone P58IPK to mediate control of the RNA-dependent protein kinase in response to cytoplasmic stress. Biochemistry. 2002 Oct 01; 41(39):11878-87.
Tan SL, Tareen SU, Melville MW, Blakely CM, Katze MG. The direct binding of the catalytic subunit of protein phosphatase 1 to the PKR protein kinase is necessary but not sufficient for inactivation and disruption of enzyme dimer formation. J Biol Chem. 2002 Sep 27; 277(39):36109-17.
Select data provided by UCSF Profiles, powered by CTSI at UCSF. Learn more about the data source.